Brief Overview
CBD is the abbreviated term for 'cannabidiol'. Derived from the cannabis plant, various cultures have used CBD-reliant remedies to treat a range of conditions for hundreds and in some cases thousands of years. It is known that during the 19th Century, for example, Queen Victoria used a CBD-rich infusion to relieve menstrual cramps. But it wasn't until 1940 that the compound was isolated and it was realised that – unlike its more famous cousin THC – CBD bestows its health benefits without any euphoric or psychoactive effects. In other words, CBD doesn't get the user high.
Research progressed slowly for the next several decades due to cannabis prohibition, but over the past 20 years one study after another has revealed that CBD can effectively treat chronic pain and inflammation, anxiety, depression, insomnia, glaucoma, epilepsy, loss of appetite, muscle spasms, Parkinson's disease, multiple sclerosis, major psychological disorders such as schizophrenia, and more. There is even research that suggests CBD can support heart health and prevent some forms of cancer.
As the list of health benefits grew, restrictions around CBD began to loosen, and by the early-mid 2010s it became increasingly common to see CBD-based products on the market.
Medical Uses
Policy makers and the medical community as a whole have increasingly come to acknowledge the therapeutic properties of cannabis and the role the marijuana industry could play in improving public health.
Internationally, the United Nations has called for an in-depth review of how cannabis is scheduled throughout the world. In November, its global health agency — the World Health Organization (WHO) — will consider analyses of the epidemiological, pharmacological, chemistry, toxicology, and therapeutic impacts of cannabis and potentially prompt reform efforts to expand access to medical cannabis across the globe.
An overwhelming 93% of American voters support the legalization of medical marijuana.
More than 23,000 studies have investigated the medicinal potential of cannabis, revealing its possibility as a safe and effective treatment option for:
·        Managing Pain
·        Reducing Nausea
·        Controlling Spasms
Cannabis has shown to also provide anti-inflammatory and healing effects for serious conditions like:
·        Multiple sclerosis
·        Arthritis
·        Inflammatory bowel disease
·        HIV/AIDS
·        Spinal traumatic brain injuries
·        Diabetes
·        Cancer
These groundbreaking findings have prompted several notable medical and advocacy organizations to support rescheduling cannabis under federal law to facilitate more research and/or encourage greater access. Groups such as the American Osteopathic Association (AOA), the American Medical Association (AMA), the American College of Physicians (ACP), the American Patient Rights Association (APRA), the American Nurses Association (ANA), and the American Legion have made public calls for more investigation into cannabis-based medicines.
Business
A flood of established stockbrokers have begun pumping out research on the industry and, as of the beginning of 2018, there were already a dozen cannabis companies with a stock market value of more than $1bn.
The European cannabis market will be worth €123bn by 2028, according to the London-based analysis firm Prohibition Partners. That is more than twice the revenues that Apple reported in the region last year and larger than the annual economic output of Ukraine.
Some of the more fanciful forecasts suggest that the world is witnessing the birth of an industry which could be worth from $500bn to $1tn. As hallucinatory as that sounds, there's no denying that legal weed, particularly for medicinal purposes, ended last year as one of the world's hottest investment prospects.
Industry Size & Growth
RECREATIONAL MARIJUANA
U.S. recreational sales are expected to grow at an incredible 18.4% CAGR, from $3.2 billion to $12.5 billion in 2025.
Medical MARIJUANA
Sales of U.S. medical marijuana are expected to grow at an 11.8% CAGR, from $5.1 billion in 2017 to an estimated $12.5 billion in 2025. 
CBD OIL
The nation's CBD market is estimated to grow by 700% by 2020, from $202 million to $2.1 billion in that time. 
Hemp
U.S. hemp-based products are expected to grow from $820 million in 2017 to a $1.9 billion by 2022, with CAGR of 14.4%.
Across the globe, we have seen the marijuana industry massively expand as more countries legalize cannabis. The market shows no signs of slowing, and industry analysts expect the worldwide legal marijuana market to grow from its current value of $9.2 billion to an incredible $57 billion by 2027.
In the United States, 32 states have legalized marijuana in some capacity, generating new economic and employment opportunities throughout the legal marijuana industry. With more states expected to advance cannabis legalization measures in the coming years, and federal lawmakers considering reform legislation, more Americans will soon be able to access legal cannabis.
Marijuana industry experts estimate that the nation's medical and recreational marijuana market is currently valued at $8.3 billion, and project that it will surge to $25 billion by 2025. In four years time, the U.S. cannabis industry is expected to deliver as many as 340,000 full-time jobs, and make a nearly $80 billion economic impact.
According to Arcview Market Research and its research partner BDS Analytics, over the next 10 years, the legal cannabis industry will see much progress around the globe. Spending on legal cannabis worldwide is expected to hit $57 billion by 2027. The adult-use (recreational) market will cover 67% of the spending; medical marijuana will take up the remaining 33%.
The largest group of cannabis buyers will be in North America, going from $9.2 billion in 2017 to $47.3 billion a decade later. The largest growth spread, however, is predicted within the rest-of-world markets, from $52 million spent in 2017 to a projected $2.5 billion in 2027.
Legal Marijuana Market Share Insights
Canopy Growth Corporation; Aphria, Inc.; Aurora Cannabis; Maricann Group, Inc.; Tilray; The Cronos Group; Organigram Holdings, Inc.; ABcann Medicinals, Inc.; and Tikun Olam are some of the players operating in the market.
Owing to established market and favorable export policies, Canadian producers are currently leading the market through focused mergers and acquisitions in order to expand their geographical presence.
Primary Insights
Medical marijuana is becoming one of the most lucrative businesses and has seen the influx of several independent investors who have started investing in this market. Soon after the legalization of medical marijuana in Canada, the local market witnessed the entry of several new growers. Although many growers appear to be promoting medicinal cannabis, only a few actually cater to patients who need Cannabis for medical purposes.
Several are awaiting the legalization of Cannabis in Canada for recreational use. Following legalization of recreational cannabis in summer/fall 2018, it is likely that many of the growers will cater to that market. Canadian officials are evaluating the value and consequences of smoking Cannabis for medical use. Therefore, it is likely that in the long run, it will be manufacturers of marijuana-based pharmaceuticals that will cater to patient population seeking marijuana for medical purposes, while the growers of marijuana will target the recreational market. In the short term, the market may see two groups of producers—one focusing in medical & export and others only involved in recreational marijuana, if insurance reimbursements increase.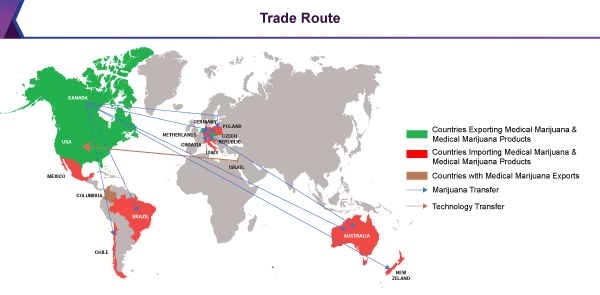 Cannabis Laws
Cannabis legalization is not exclusive to North America. So far, 21 countries or territories have legalized cannabis fully or partially for medical and/or adult use. Below is a brief snapshot of the laws in those with established regulations:
Argentina – Status: CBD legalized/Partially medically legalized/Decriminalized
Medical cannabis has been legal in Chubut and Santa Fe Provinces since late 2016. In March, the Argentinian senate legalized cannabidiol (CBD) oil for treatment of certain conditions, including epilepsy. The national medical authorities are the only group allowed to produce and distribute the medicine.
Australia – Status: Medically legalized/Partially decriminalized
Federally legalized production of MMJ on Feb. 24, 2016, and use of MMJ on Nov. 1, 2016. First federal research license granted Feb. 17, by The Office of Drug Control in the Federal Department of Health.
Canada – Status: Full federal legalization
Canada legalized medical cannabis use and cultivation in 2001. The program, which licenses cannabis producers, is regulated by the Marijuana for Medical Purposes Regulations by Health Canada. The country is preparing to legalize adult-use by July 1, 2018.
Chile – Status: Medically legalized
Chile legalized the cultivation of medical cannabis in 2014. Cultivators must get a license from the Chilean Agriculture Service. Sale of medical cannabis is only allowed through prescription at pharmacies.
Colombia – Status: Medically legalized/Decriminalized
On Dec. 22, 2015, President Juan Manuel Santos signed a bill into law to regulate the medical cannabis industry. It is now fully legal to grow, process, import and export medical cannabis and cannabis derivatives if you possess a federal license from the National Narcotics Council and/or the health ministry.
Croatia – Status: Medically legalized
Legal for certain conditions such as cancer, multiple sclerosis, AIDS. MMJ is currently imported.
Czech Republic – Status: Medically legalized
Since 2013, MMJ has been legal in the Czech Republic. In the first year of the program, federal authorities imported medical cannabis products to sell at pharmacies. Today, licensed cultivators grow cannabis for the state.
Germany – Status: Medically legalized/Decriminalized
Earlier this year, Germany began importing medical marijuana (MMJ) from Canada as part of a recently expanded program. Potential cultivators are vying for government licenses, and current patients may pick up their prescriptions at pharmacies.
India – Status: Federally illegal, but legal in some states
While cannabis (often called "ganja" in India) remains federally illegal, it is reportedly widely tolerated, and several states have their own laws legalizing cannabis for possession/use or sale.
Israel – Status: Medically legalized
Long a center for cannabis research, Israel legalized medical marijuana in the 1990s. In 2004, it began experimenting with THC as a treatment for PTSD in its military members. There are currently eight licensed producers, and patients can get their prescriptions filled in company stores or medical centers.
Italy – Status: Medically legalized
Italy legalized cannabis for medical use in 2013. Currently, production is limited to a military operation in Florence called the Military Pharmaceutical Plant. The Army sends final medicine to pharmacies across the country, where patients with prescriptions can purchase medicine.
Jamaica – Status: Partially medically legalized/Decriminalized
In February 2015, an amendment to the Dangerous Drugs Act was passed in the House of Representatives, making minor possession a civil penalty and opening the door for a regulated system of permits and licenses, as well as use for medical, therapeutic and religious purposes.
Macedonia – Status: Medically legalized
Legalized in 2016, medical marijuana in Macedonia is already attracting international investors. A U.S.-based group, NYSK Holdings, has invested in a cannabis oil-producing plant in the Balkan country. Production is regulated by the federal authorities who issue licenses to select operators.
Mexico – Status: Medically legalized/Decriminalized
A recent law change saw cannabis legalized for medical purposes in Mexico. In April, the Mexican Chamber of Deputies approved a Senate measure legalizing the plant for medical use. Regulation and policies are being set by the country's Health Department.
Philippines – Status: Medical cannabis legislation in progress
[Updated March 2019.] The House of Representatives is debating HB 6517, which would legalize cannabis in all forms for medical use.
Poland – Status: Partially medically legalized
While cannabis is still illegal in Poland, health authorities have been issuing reimbursements for the purchase of medical cannabis. Medical cannabis products are imported from other countries. Currently no laws regulate nor legalize the domestic production of cannabis.
Puerto Rico – Status: Medically legalized
An executive order signed by the governor legalized the medical use of cannabis in 2015. Only groups licensed by the U.S. territory may cultivate medical cannabis. Dispensary sales began early this year.
Thailand – Status: Medically legalized
Thailand has become the first country in Southeast Asia to legalize medical marijuana. There are strict controls on cultivation, including a mandate that all medical marijuana is grown indoors — which is intended to help prevent illegal practices and ensure quality — but that significantly increases the cost of cultivation.
Turkey – Status: Medically legalized
Turkey legalized cannabis for medical uses in October 2016. Cultivation is allowed in select provinces, although any province can host a cultivation facility for scientific purposes if the federal authorities allow it. Licenses are government-controlled and valid for three years.
Uruguay – Status: Legalized
Uruguay legalized cannabis in all forms in 2013. Consumers must be 18 years old or older, and residents of Uruguay and must be registered with federal authorities. Cannabis sold in the country is produced by the federal government.